2 Game losing streak after starting first
month
of the season with only 2 loses… it sucks. The team has to pull it back together though. They're not playing to their strengths and they're losing their fundamentals:
DEFENSE
! In the Overtime game last week against Phoenix at home, I had one thing to say: GET RUDY MORE LOOKS. Rudy has to play superstar for Grizzlies to win the Championship + Zach has to play Allstar + Gasol + Conley + everything else has to be perfectly in tune for that number one team to emerge in Memphis.
Right now it's a little soft. Right now we're playing passive. Right now the ZOO CREW (the Grizzlies bench) is playing to maintain a lead, not to build leads. That ain't gonna fly. We got the current reigning 2x Western Conference Coach of the Month at the helm. We'll right this ship!
---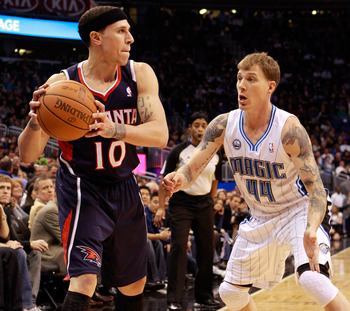 Mike Bibby
Don't do it!
Bibby steeply declined a while ago. Plus it's a matter of principles. I remember an interview with Bibby some years ago where they asked him about playing for the Grizzlies and he said something like "Memphis who?". He's a punk. We traded for the better player 11 years ago with Jason Williams. Why go back now? On my list of players I never want to see back in a Grizzlies uniform Bibby is right up there.
Here is a brief list of players I rather see brought in: Marko Jaric, Dan Dickau, Will Conroy, Darius Washington, TJ Ford, Marcus Wiliams, Acie Law, Ish Smith, Flip Murray, Armon Johnson, Sergio Llull, Zoran Dragic. Actually the last couple there on the list I would give serious consideration as prospects.
But I know this team will persevere. There are going to be up and downs. I expect a jam session this Friday. I expect a tremendous dog fight. This is one Grizzlies team that never lays down. They'll be back in full force. I think you look at every team and every sport and you see every one that is successful is constantly seeking to improve. Yes, everyone has their ceiling. But a team can always improve. Regardless where everyone is at individually. They have to keep getting better all year. And then a battle starts. When the battle is at your doorstep you plow through. You win or lose, but you play the game. You live for this moment of conflict. To know how it ends would ruin the fun. Let's see what happens folks!!!!
Go Grizz!