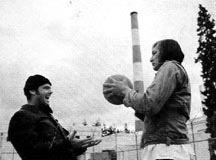 BJ Mullens Prison Ball - The former OSU joker that never got court time at OKC and is now on the Charlotte Bobcats, apparently played prison ball over the lockout to get tougher. That's pretty freaking hessian, dude.

Will the Bobcats match the contract that Dante Cunningham signed with the Grizzlies? Are we going to trade for someone like Speights? Will the return of Joey Dorsey, Earl Barron, or Jake Tsakilidis come to fruition?




We need a tough guy who isn't afraid of playing in jail like Mr. Mullens. Someone crazy that is talented enough for NBA but hasn't been picked up yet would be just the right fit.

I KNOW!



Wait, no, tried that already.




YES! All I want for Christmas is my Haddadi.