Darrell Arthur is out for the season it appears! Maybe a miracle happens and he's ready for late April or playoffs, but sounds doubtful. We already had a gaping hole behind Marc Gasol, as Hamed Haddadi has yet to actually make an appearance in Memphis, although he says he is on his way. That need existed before losing King Arthur. Now apparently the Grizz only have summer camp invites to backup Ga-ZBO (Marc Gasol = Ursa Major, ZBO = Ursa Minor).
There's no question that the value of Arthur on this team was huge. He can play the 4 and the 5. He is a threat anywhere inside the 3pt line to score on a variety of moves. He can hang defensively with any of the big guys.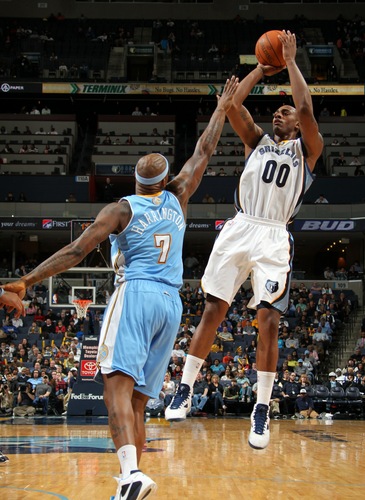 Now a lot of the guys I was coveting have been signed already: Jonas Jerebko (GOD HE'D BE THE PERFECT REPLACEMENT NOW!), Carl Landry, Ersan Ilyasova, Nikola Pekovic (Europe), Chuck Hayes, Glen Davis, and Craig Smith. But there are still a few guys left we should consider.
Samual Dalembert should be top of the list now because we are one injury away from having to start Brian Skinner. Do you think Gasol is going to start all 66 games this year? I wouldn't count on it. Dalembert would be a reach, not sure how we make cap room but he'd be a godsend.
Steve Novak. I think he is available for a vet min salary and he provides needed 3pt shooting as well. This is really a guy I wanted to shore up our bench originally. He can't fill 00's (Arthur's) shoes but I'd like to see him on the Grizz. He shot over 50% last season from downtown…
This guy needs to get out of the spotlight and return to basketball. What better town than Memphis? He can go clear under the radar and continue right where he left off as a double-double machine as the main backup behind ZBO this season. The question is salary. Also it would help him to find a real woman in Memphis that can cook for him and treat him right instead of some
celebuttante
bitch. Win-win for everyone!
The other obvious candidates that we missed out on were Jeff Adrien, Troy Murphy, and Josh McRoberts. My intuition says we just bring in Leon Powe, keep Walter Sharpe, and Josh Davis. Keep Skinner until Haddadi shows up.
I just wonder if there's someone else out there of suitable quality that's available for a trade scenario that also allows O.J. Mayo to command another playoff team in the East. In that case we might look at bringing in Taj Gibson from the Chicago Bulls. He played with Marc Gasol at the 2009 Rookie All_Star Challenge in Phoenix.
Other names I've seen float around are Mareese Speights and Dan Gadzuric.