Grizzlies summer lockup report here.
Shane Battier wants to go to a contender and has been mentioned to be on the Miami Heat radar. Mike Miller and Battier reunion would be Hubie-tastic. I don't know how serious I can take these reports though as they focus equally on Eddy Curry. Fail. Battier has very good things to say about our Grizz:
"From a talent standpoint, Memphis is going to be a force to deal with for a few years," he said. "Talent wins. You can have all the rah-rah you can muster, but at the end of the day in the NBA, talent wins."
— Shane Battier
Josh Selby is looking like one of the best 2nd round draft picks of all-time, as long as exhibition showboating translates to NBA quality performance.
Selby and Jennings trading fancy moves:
Selby dunking:
Selby has the distinction of being one of the few players in the upcoming Goodman League vs Drew League competition. I think this will be televised too so we get some NBA fix after all.
Goodman League vs Drew League Details - game date and roster here. Both Josh Selby and Grizzlies' Sam Young are on the A-Team. Get hyped!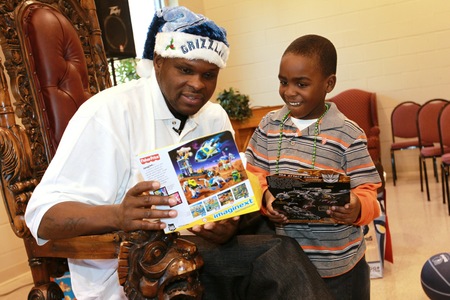 Some players, such as the Los Angeles Clippers' Al-Farouq Aminu and the Memphis Grizzlies' Zach Randolph, arranged to have their 2010-11 salary paid over 18 or 24 months.
- USA Today

Zach Randolph is smart with his money - Pretty good for a guy with an extra "Punk" chromosome. What Would Scottie Pippen Do?


Rudy Gay loses Black Ops match to Jason Terry - Ok this is what lockout means... and slow injury recovery. Meanwhile Rudy Gay's contract was picked as the Grizzlies "worst" by a Bleacher Report article that surveyed all 30 teams for the albatross of each executive backroom. Fact is the Grizz don't have any bad contracts so they had to pick our max franchise player's.


Haddadi moving forward - Grizz extended the Qualifying Offer to him, which means he isn't being let go to free agency but other teams can still try to sign him, though Grizzlies would have the chance to match it. Let's hope he gets past these dumb legal troubles though. How embarrassing is it to be arrested for having rough sex? "Conditions of his bail also prohibit him from using alcohol or any controlled substances." Now if I read it correctly he's not allowed to have alcohol while out on bail. The guy is 26 years old - isn't that a little ridiculous? And furthermore, aren't Muslims not allowed to drink anyway?