The Memphis Grizzlies are revving it up, assuredly, for the
second season
, also known as the NBA playoffs. After locking up their playoff birth with cakewalk wins over Minnesota, New Orleans, and Sacramento the Grizzlies entered into a preseason incubation period. Many fans, including myself, were puzzled and frustrated that they did not go all out in the last week of action to try and secure a lower seed. We know the Grizzlies players are extremely pumped though. The players that were pulled from the final stretch games, such as Tony Allen, were probably more upset than any of the fans. Their focus will be razor sharp as they
advance & vanquish
the number one seeded San Antonio Spurs.
Remember the Grindhouse?
It wasn't just the turnovers, it was the offensive boards along with the lack of focus," Popovich said in his brief postgame appearance before closing with: "It was a disappointing night, and that's not something to be proud of."
Grizzlies beat the Spurs twice in March. Game 1 they were without Tony Parker. Game 2 they were without Tim Duncan and Manu Ginobli injured himself. This Sunday the Spurs advertise that Manu is doubtful for the first game at the Texas border outpost town. To be fair, the Grizzlies have endured the loss of their leading scorer, Rudy Gay, since the All-Star break in early February. The Spurs system works even without their big name players because they preach a philosophy that everyone buys into and it gets results. They plug in guys that play certain roles, which is very successful.
Remember the Alamo?
On the other hand, the Spurs have beaten the Grizzlies two times at their adobe. The first game went to OT with an OJ Mayo miracle buzzer beater. Then in overtime period, Tony Parker cut them up to cap a 37 point performance. Not too shabby for the Grizz while the #1 NBA team, Spurs, was kicking on full effect in the middle of their largest win streak of the season. That game had no Rudy Gay because he was suspended for a shove to Luis Scola the night before. So, ironically, Rudy has not suited up against the Spurs in any of the matches with San Antonio this year.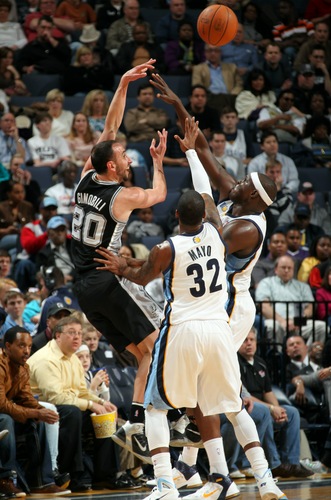 My next posts will break down the player-by-player match-ups. I will be coming from the Grizzlies point of view but it will be interesting to see how these teams have compared before and what we can expect in this series.