Sam Young has to be the Grizzlies best 2nd round pick ever. (Sorry Lawrence Roberts). It wasn't hard to make a good pick at that spot in 2009 though, with DeJuan Blair and Chase Budinger still on the board (both All Rookie team players). Sam has not hit any kind of sophomore slump though and has established himself as the starting SF without question. He filled in at SG for a bit but moved to the 3 with Tony Allen inserted into the lineup.
Sam can hit big shots. He has wily ball fakes. He's a mature player that used all his NCAA eligibility before turning pro. And he's pretty darn talented:
Now to RJ.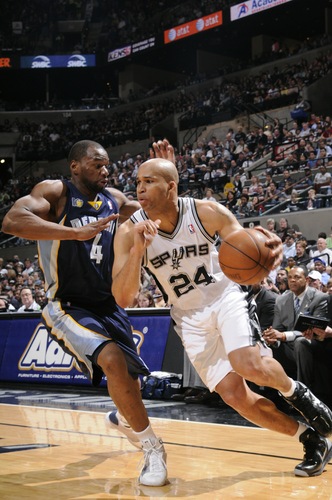 I have to admit I've never liked the Nets until they got Anthony Morrow.
And I certainly did not appreciate his efforts with the Milwaukee Bucks. So, of all the Spurs players he's definitely my least favorite. But it don't mean he's not a good player.
Too bad the Vince Carter Nets thing didn't work out. If it did you might have the Nets with Melo actually competing with the Celtics instead of watching the pathetic Knicks getting swept?
Here's a nice slammy:
Like all my breakdowns here, the players I have highlighted haven't actually faced off much in the Game 1. Marc Gasol really went up against Duncan. ZBO went against McDyess, and Ginobli ain't even played. In fact it's never really 1 on 1 in any way shape or form.
Now Sam Young will guard Jefferson some but you might see Tony on him as well. It's kind of stupid to break it down this way. But I like to think Sam Young is prettier than Jefferson so we still win this matchup:
Maybe not!
But Sam Young and Grizz all have something on these jaded, estranged Spurs players: potential, hope, and youth. The Spurs approach is that this is their job to do. I think Sam's approach is that the sky is the limit and "I can go as high as I will go". Not just because today is 4/20 either!
Advantage: Grizzlies