"We ain't here just to be here, we here to win."
This video about the Grizzlies playoff clench is the way to start the Tony Allen story. His first year in Memphis has been foremost about the team because he's always been an outstanding bench player. Those guys don't get the spotlight but they are critical for success of the team.
Well they took the above video down for some reason. Try this one instead:
http://www.nba.com/grizzlies/video/2011/04/19/the10grizzseasonreview11mp4-1653558
Tony has been in the starting lineup since around the time Xavier Henry was injured and then Rudy Gay went down. They say around the time of the inflight scuffle between Mayo and Allen the team came together and cleared the air. The team then resolved all the personal stuff and got it together. His leadership qualities, albeit
unconventional
, have turned this team into a league-leading force on defense, tenacity,
Ubuntu
,
grit, grind, and heart
.
Manu has resurrected the Spurs this year. He's nearly an MVP candidate, and certainly has played allstar level. The Spurs changed philosophy this season and basically have outshot all their opponents. This style of play has been great for Manu, and he's become their go-to scorer. For the Spurs to maintain their number one record throughout the post-season they must get Ginobli back on the floor healthy. I'm sure we will see him a lot in this series even though he missed game one. Tony Allen will have to give him hell for the Grizzlies to keep up!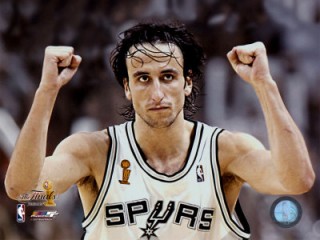 Don't mess with batman,
The question is whether the 6th highest "impact" player (from Mathletics blog) in NBA is in form. The Spurs point differential has gone to hell since they were the bonafide #1 team before the allstar break. Now they are just upper-tier since then and hence that crazy losing streak. Until Manu proves himself and shows he's 100%, you can't deny the impact Tony Allen has on the defensive side. The Grizzlies hold them from scoring on so many possessions. Where will they make up for that presence?
Advantage: Grizzlies
Advantage: Grizzlies