Ok so I did not get anything I wanted from our 3 draft picks.
Somehow, we ended up with two more damn BIG EAST All-stars, another Memphis Tiger killer, and we lost the king of unpredictable aloofness, Darko Milicic. Darko is going big time in New York City and I hope he does well.
But at any rate, I must rally behind my team even if I think it's being run by deranged pygmy marmosets.
Happy balloon time in Tanzania!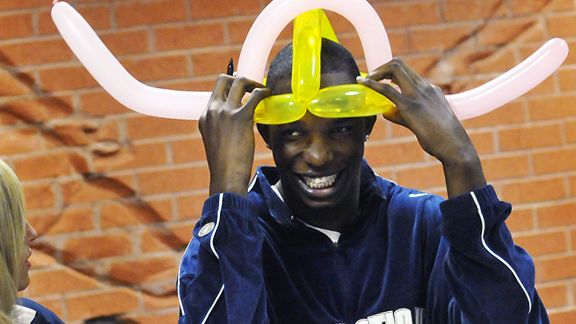 "Just Thabeet it, Thabeet it,
No One Wants To Be Defeated
Showin' How Funky Strong Is Your Fight
It Doesn't Matter Who's Wrong Or Right"
Our other 2 picks:
Carroll is a "junk yard dog". But I won't bring up how
we had one of those before
and let it go for nothing. I'm interested to see what they do with him, if anything. These type of players have not lasted long in Memphis when they've been on our team. Maybe we're finally taking on a new tougher identity though. It's about time!
And there were a few other guys I would have picked before
Sam Young
. But I suppose he could be a beast that we need off the bench to "hold our ground" while the starters are resting on the bench and help prevent the 3rd quarter blowouts that always seemed to happen the last 3 years! It's a longshot if we ever see him in games but let me tell you I'd take anything over the parade of scrubs we've had on the bench in the past.